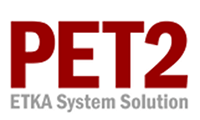 The original spare parts catalogue for Porsche vehicles on European and North American market.
PET is installed in the VM (Virtual machine).
Search by VIN or chassis: only offline with VIN details for limited number of VINs (20046). This means when you type VIN which is not in the database, you will need to look more details in parts decryption to choose the right one for desired vehicle.
Prices: Yes (latest prices can be updated online for the your chosen country/market)
Product Name
PORSCHE PET2 VM
Version

Revision 8.0; Update 727
Date of update
08/2023
Price
60 EURO
Download file size
4,49 GB
Languages
English, Deutsch, Italiano, Francais, Espanol, Portugues, Nederlands, Russian, Chinese, Japanese, Nederlands
Requirements
All Windows.(64-bit preferred)
PET is preinstalled in VM (virtual machine) so you can start it with the included VMware player
Expiration
No expiration
Activation
Not needed (unlimited installations on multiple computers)