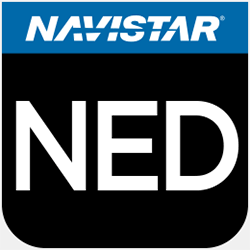 International Navistar Engine Diagnostics - NED
Navistar® Engine Diagnostics is a diagnostic and programming service tool for Navistar® Engines. A fully-featured PC application, Navistar Engine Diagnostics is designed to meet the wide range of diagnostic challenges when servicing your fleet. Coverage includes J-1939 International electronic engine systems, allowing you to run special tests, change parameters and view and graph engine data. This is the top-of-the-line tool for dealers and fleets. The application updates periodically, enabling you to have the most up-to-date coverage.
Basic Features
Read and clear diagnostic fault codes
View signals and parameters
Print trip and vehicle reports
Advanced Features ◾Diagnostic Tests ◾KOEO – Key On Engine Off ◾KOER – Key On Engine Running ◾KOEO – Injector Buzz Test ◾KOER – Injector Contribution Test ◾Cylinder Cutout Test (EPA 04′ and newer) ◾Injector Disable Tests (EPA 04′ and newer) ◾Display and change configurable Parameters ◾Crank Inhibit ◾Fan Control ◾Idle Shutdown Timer ◾Warm-up Device ◾Warning and Protection System ◾Hydraulic Pressure Governor ◾PTO Control ◾Radiator Shutter ◾Vehicle Speed Limit ◾Vehicle Retarder ◾Two Speed Axle ◾Traction Control
Minimum System Requirements:
Windows Vista, or Windows 7
1GHz Intel Core 2 Duo, AMD Athlon X2 or better
2GB (32-bit) or 4GB (64-bit) of RAM
300MB of available hard disk space
1024 x 768 pixel monitor
One or more RP1210A compatible communication devices with SAE J1708 and/or SAE J1939 support
NOTE: Make sure to close Navistar Engine Diagnostics before installing a new version
Engine Support
MaxxForce 5 (2007-2009)
MaxxForce 7 (2007-2009)
MaxxForce 7 (2010-2012)
MaxxForce 7 (2013-)
MaxxForce DT, 9, 10 (2007-2009)
MaxxForce DT, 9, 10 (2010-2012)
MaxxForce DT, 9, 10 (2013)
MaxxForce 11, 13 (2008-2009)
MaxxForce 11, 13 (2010-2013)
MaxxForce 15 (2010-2013)
N9, N10 SCR (2014-)
N13 SCR (2013-2014)
N13 SCR (2015-)
International A26 SCR (2017-)
The Navistar Service Maxx Diagnostic Software application provides diagnostic capability for international electronic systems. Basic Functions include - Read fault codes, Clear fault codes, View engine data.
International Navistar NED User Guide (PDF)
We will download and install this sofware remotelly on your PC.